Camp Kindling - Co-operative Youth Retreat
Actions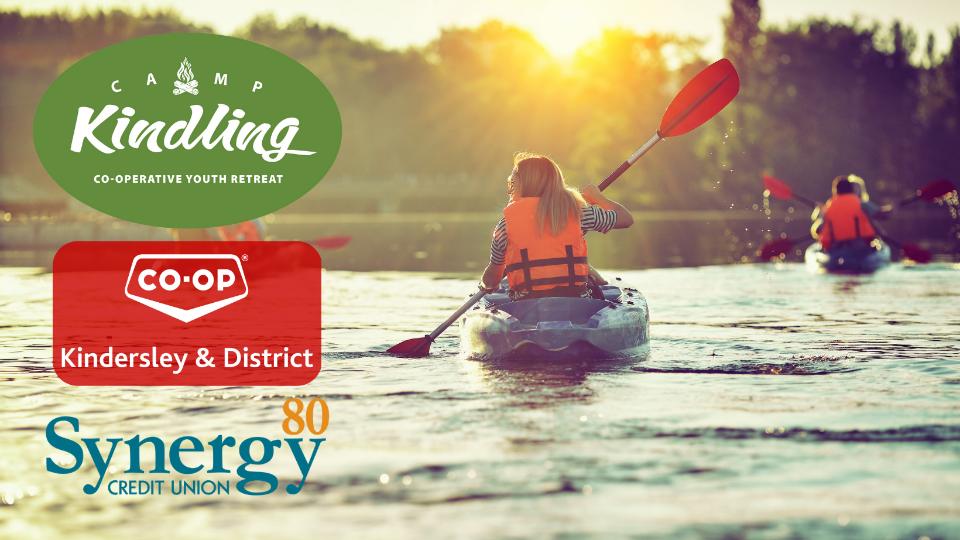 Camp Kindling - Co-operative Youth Retreat
April 26, 2023
Are you ready for some fun this summer?! Gain some amazing memories and life experiences by going to Co-op Camp. The uniqueness of Camp Kindling stems from its ability to provide a co-operative, participatory learning experience for young people, co-op staff and volunteers, within a positive, safe and inclusive environment.

The Saskatchewan Cooperative Youth Program are partnered with Kindersley & District Coop and Synergy Credit Union to sponsor 3 youth from the community to attend one of the camps in the 2023 season.
The Youth Camp are both hosted by the Saskatchewan Cooperative Youth Program and will be held at Last Mountain Lake, Saskatchewan.
Camp Dates:
Junior 1 Camp – July 2 - 6, 2023 (Last Mountain Lake)
Introductory 1 Camp – July 6 - 10, 2023 (Last Mountain Lake)
Doug Alexander Intermediate Camp – July 10 - 14, 2023 (Last Mountain Lake)
Junior 2 Camp – July 14 - 18, 2023 (Last Mountain Lake)
Introductory 2 Camp – July 18 - 22, 2023 (Last Mountain Lake)
Grad Camp – July 22 - 27, 2023 (Last Mountain Lake)
Camp Levels Breakdown:
Junior — For youth aged 12 and 13* and new to the program.
Participants will explore how they belong to a wider world of co-operatives, the media, friends, and groups. Junior camps include sessions on deconstructing the media, conflict resolution, and co-operatives - locally and globally. This is in addition to all the social and recreational activities, such as swimming, canoeing, campfires, and dances.
Introductory — Returning Junior participants as well as 14 and 15-year-olds* who are new to the program.
There is lots of fun to be had while canoeing, singing songs around the campfire and getting to know new people. At the Introductory level participants also form and run their own co-operative canteen with the help of staff. Participants also explore issues of individuality, communication, community, co-operatives and global development.
Doug Alexander Intermediate Camp — For youth who've completed the Introductory level and 13 to 18-year-olds* new to the program. (Note the newly-expanded age range!)
This level includes sessions on the co-operative principles, leadership, human differences and understanding, and trust and openness. Participants also select the recreational and social activities. As always, there are lots of interactive and fun recreational outdoor activities.
Earl Hanson Graduate Camp — To attend this camp, participants must be invited after attending an Intermediate camp.
At this level, participants learn many new skills that will help them transition from high school. Through forming a co-operative community, participants will have the opportunity voice their opinions on topical co-operative issues, particularly youth involvement. Other topics include Canadian unity, co-operative values and consensus building. Participants will also choose the camp's social and recreational activities.
Senior Graduate — Invitation-only camp for those who have successfully completed the Graduate level camp.
Participants take on more leadership roles and responsibility for the goals and design of the camp. Participants put into practice the co-operation and leadership skills they have learned while developing new skills that they can apply to the workforce and in life.
For more information on Camp Kindling, check out there website here: https://campkindling.coop/
Click the links for Brochures for each camp and a sponsorship form. Please note that the sponsorship form/registration form are located within the brochure and will need to be submit to Kindersley & District Co-op to be considered for sponsorship.
Please return the filled out forms by Friday, April 14, 2023 to the Kindersley Co-op Administration/Pharmacy location or to hrmanager@kindersleycoop.ca
**Please note — Applications will be processed on a first come, first serve basis.